Night Gallery is pleased to present A New Flood, an exhibition of watercolors by Sterling Wells. The show also features a floating studio installation. This is Wells's second solo exhibition at the gallery, following his 2020 show La Brea and the River. His work was included in the group exhibition Hot Glue this past spring at NADA East Broadway in New York City, NY and in Shrubs at Night Gallery in 2022.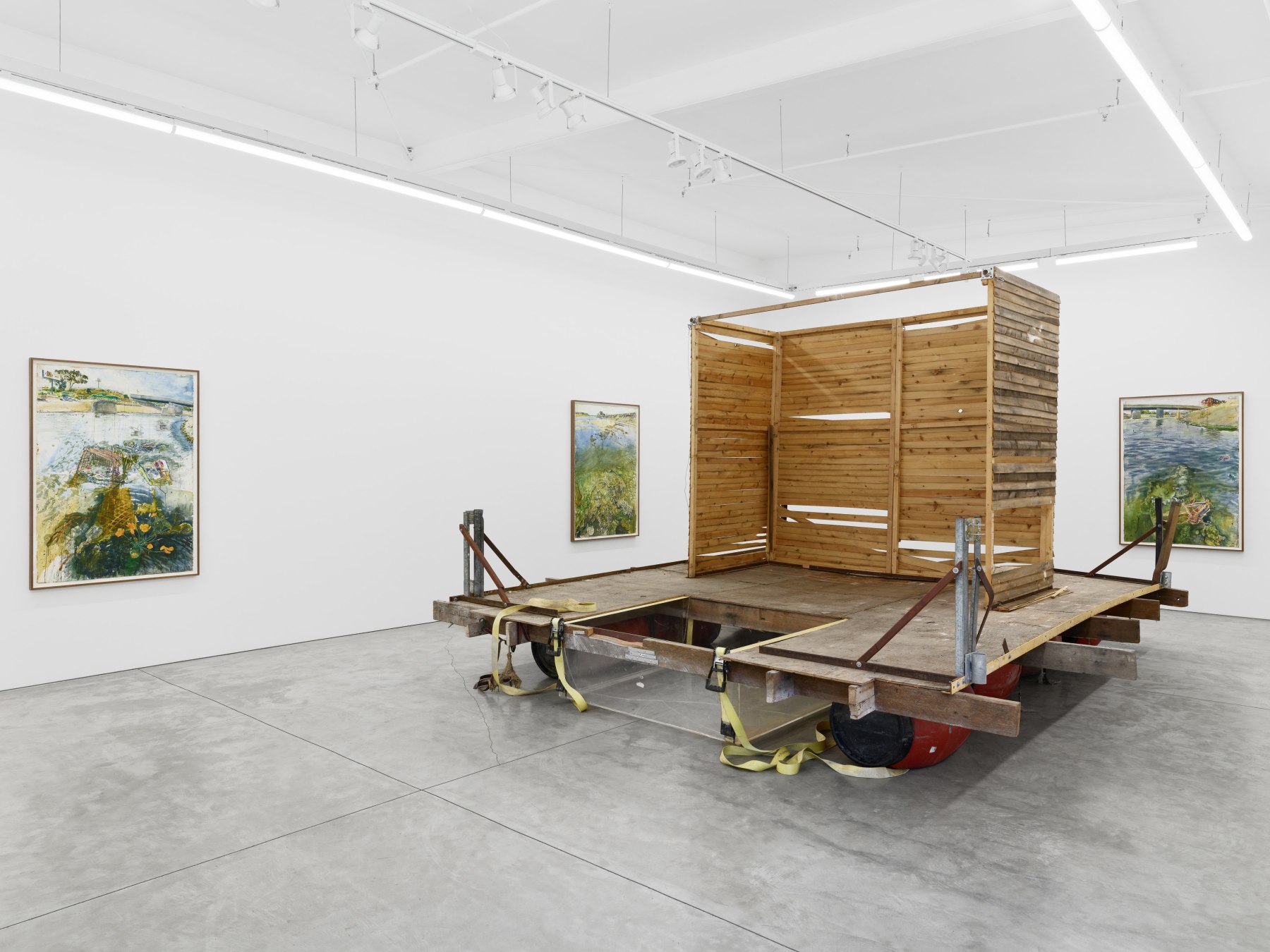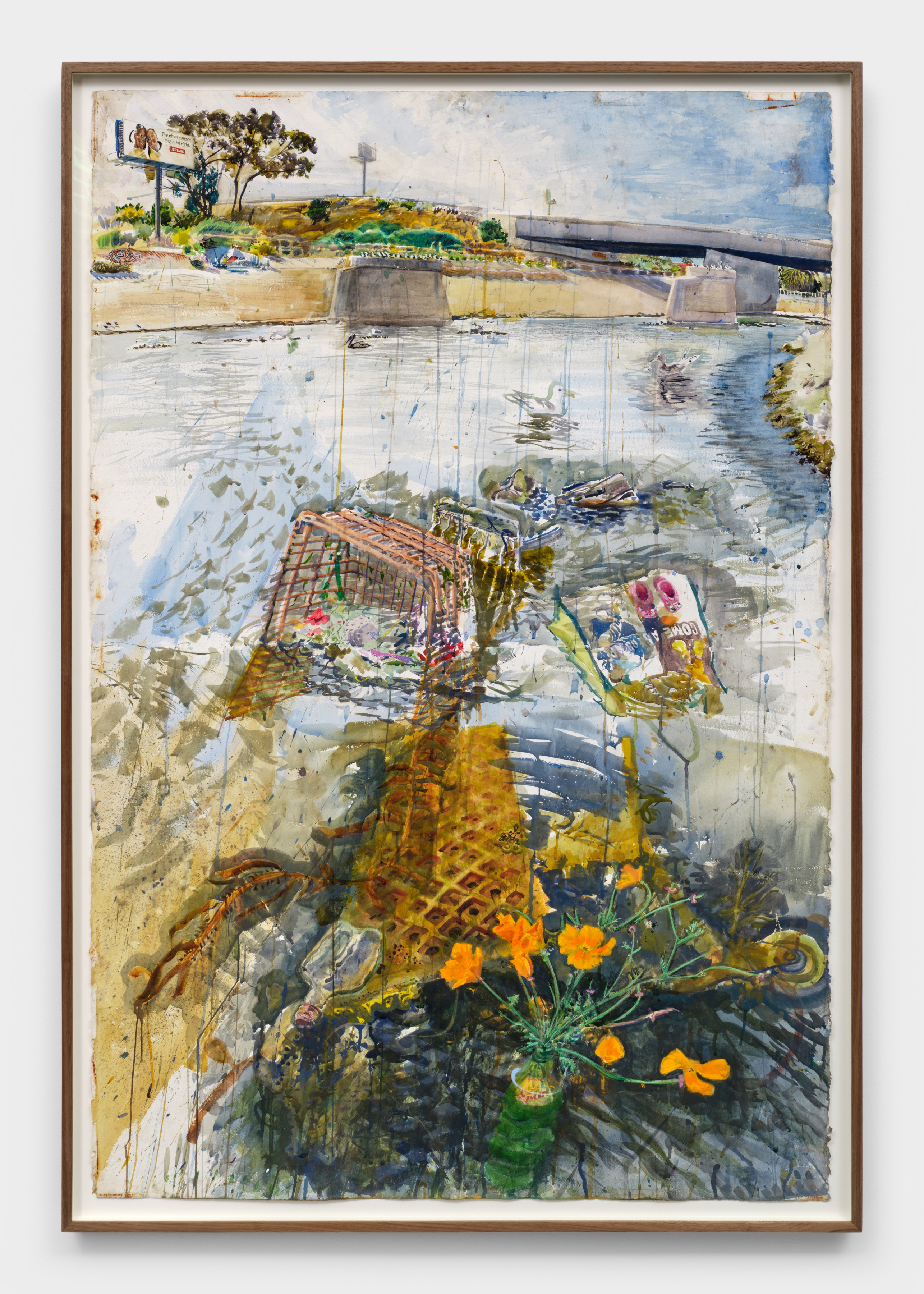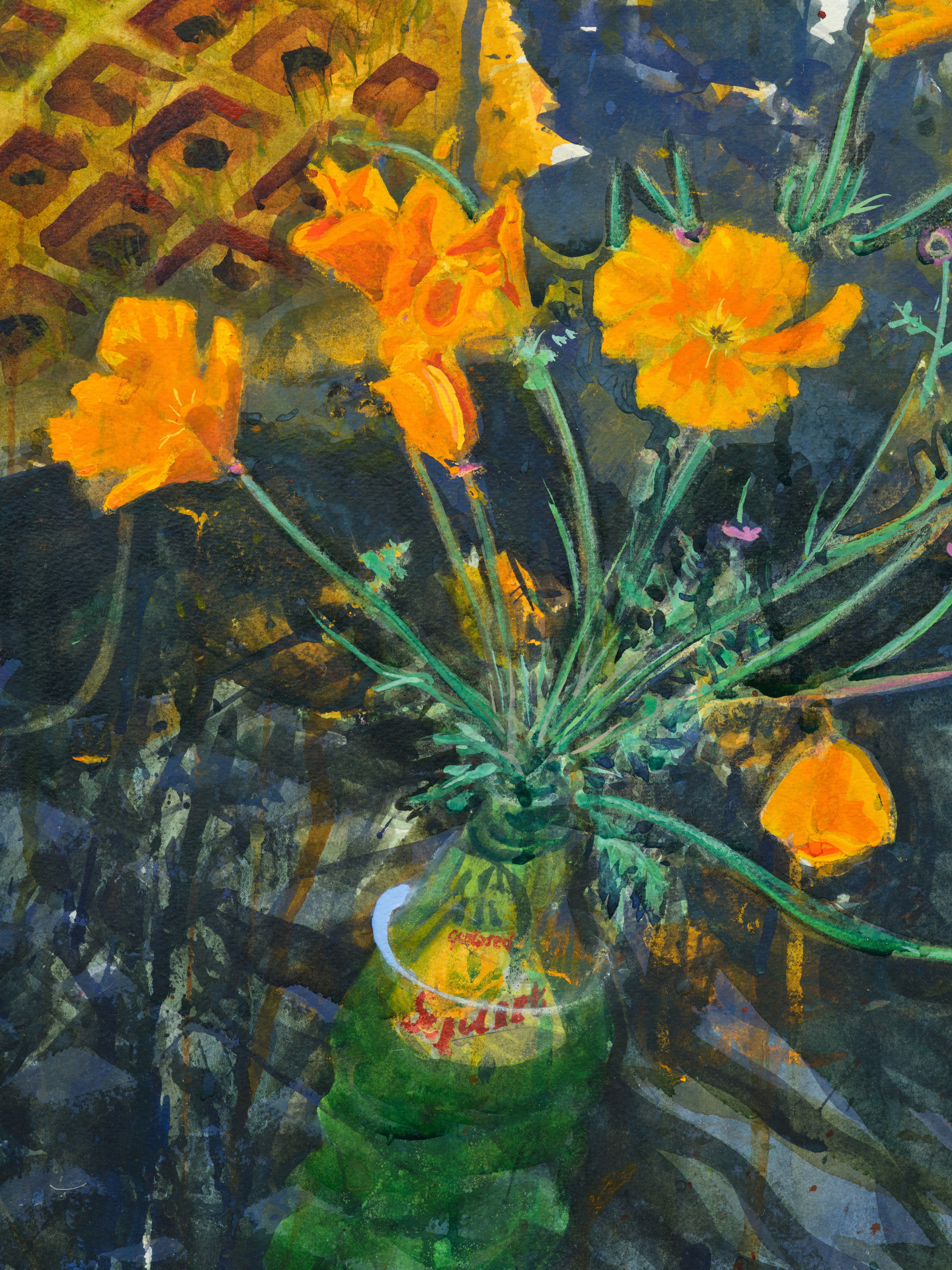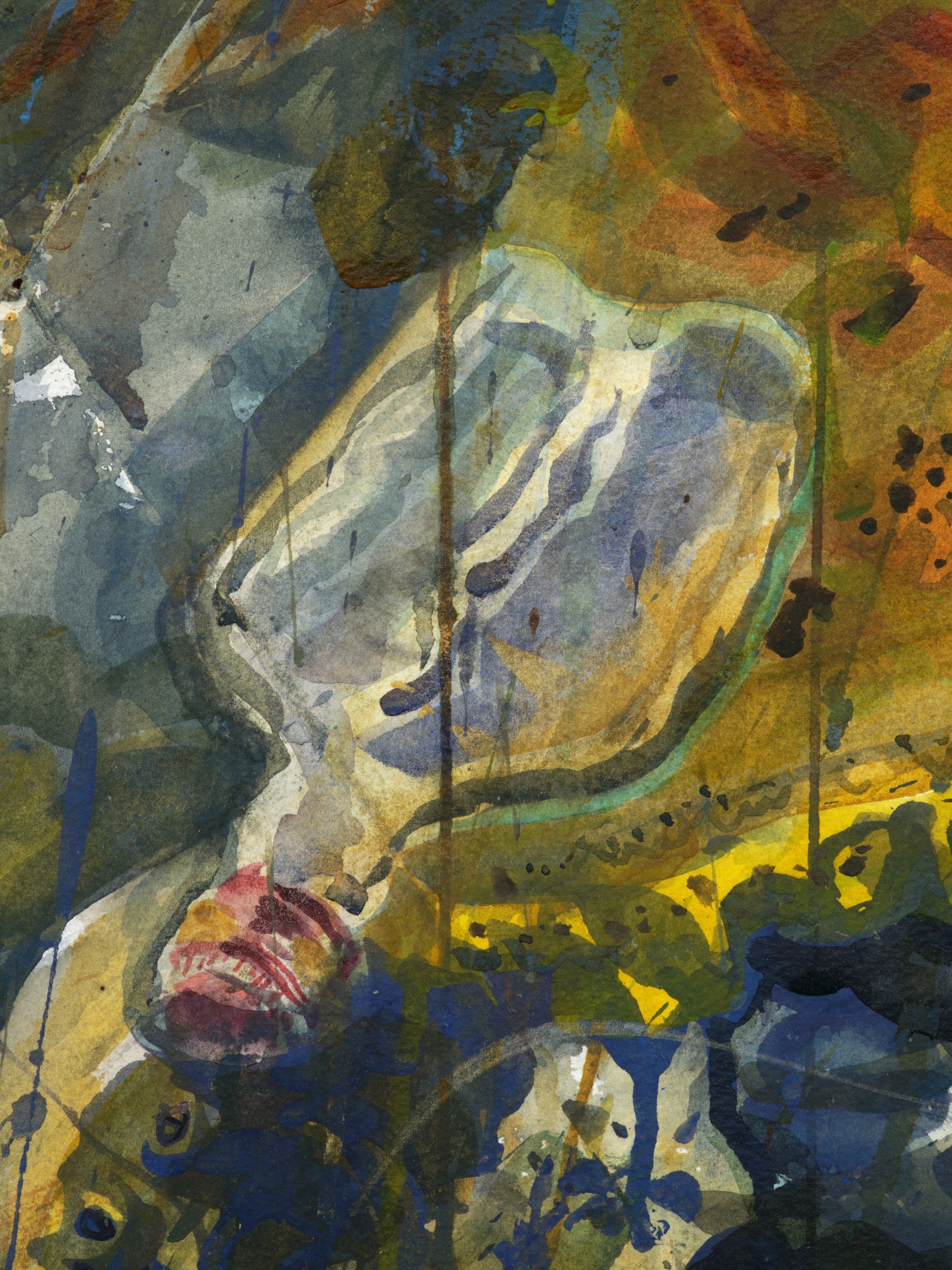 Sterling Wells brings an irreverent approach to the traditions of plein air painting and watercolor. He renders the detritus he finds around the hidden waterways of Los Angeles, using water from the sites and composing scenes that collapse city life into intricate arrangements. His work becomes a portrait of a contemporary metropolitan community as he documents what it leaves behind.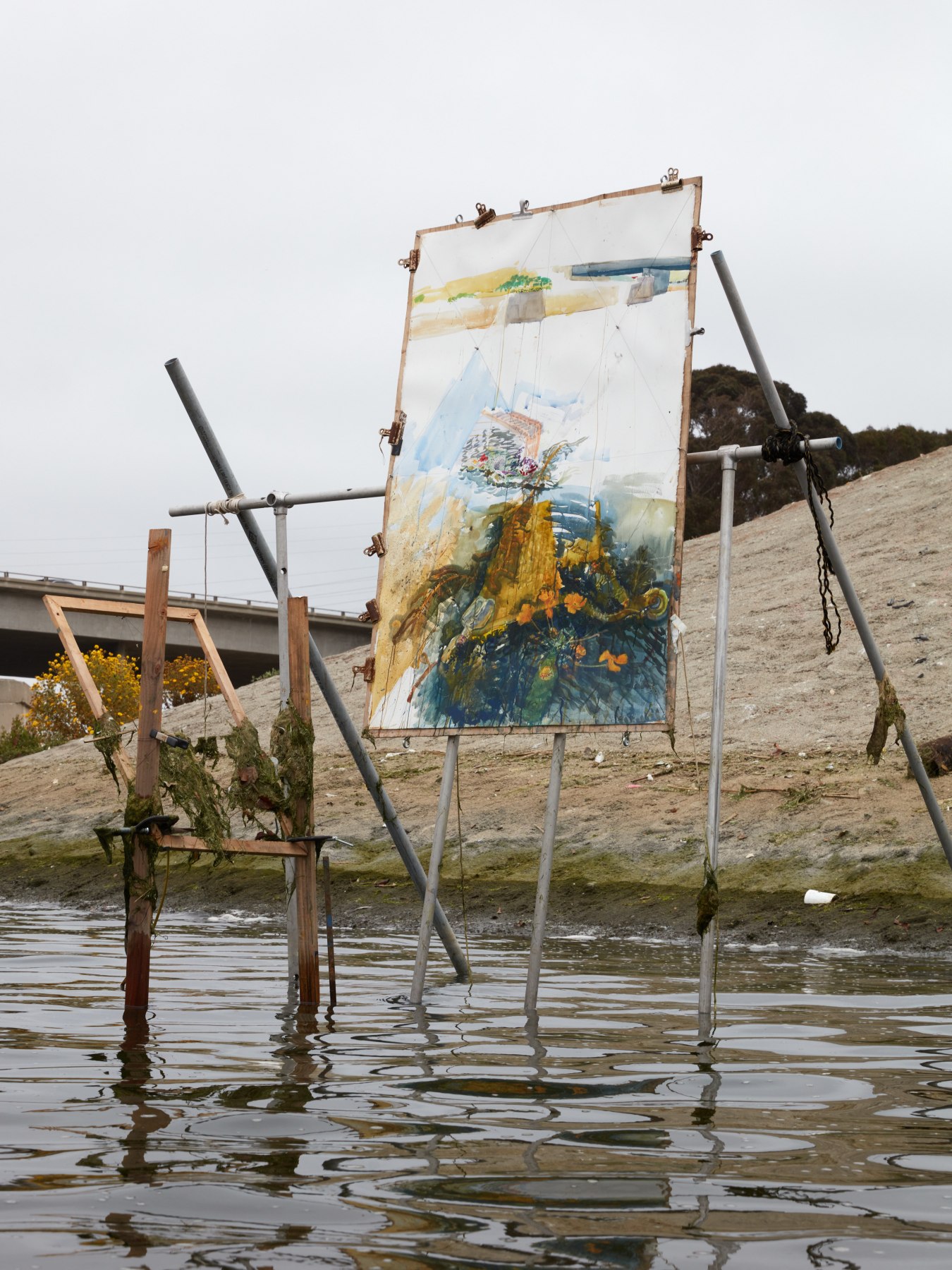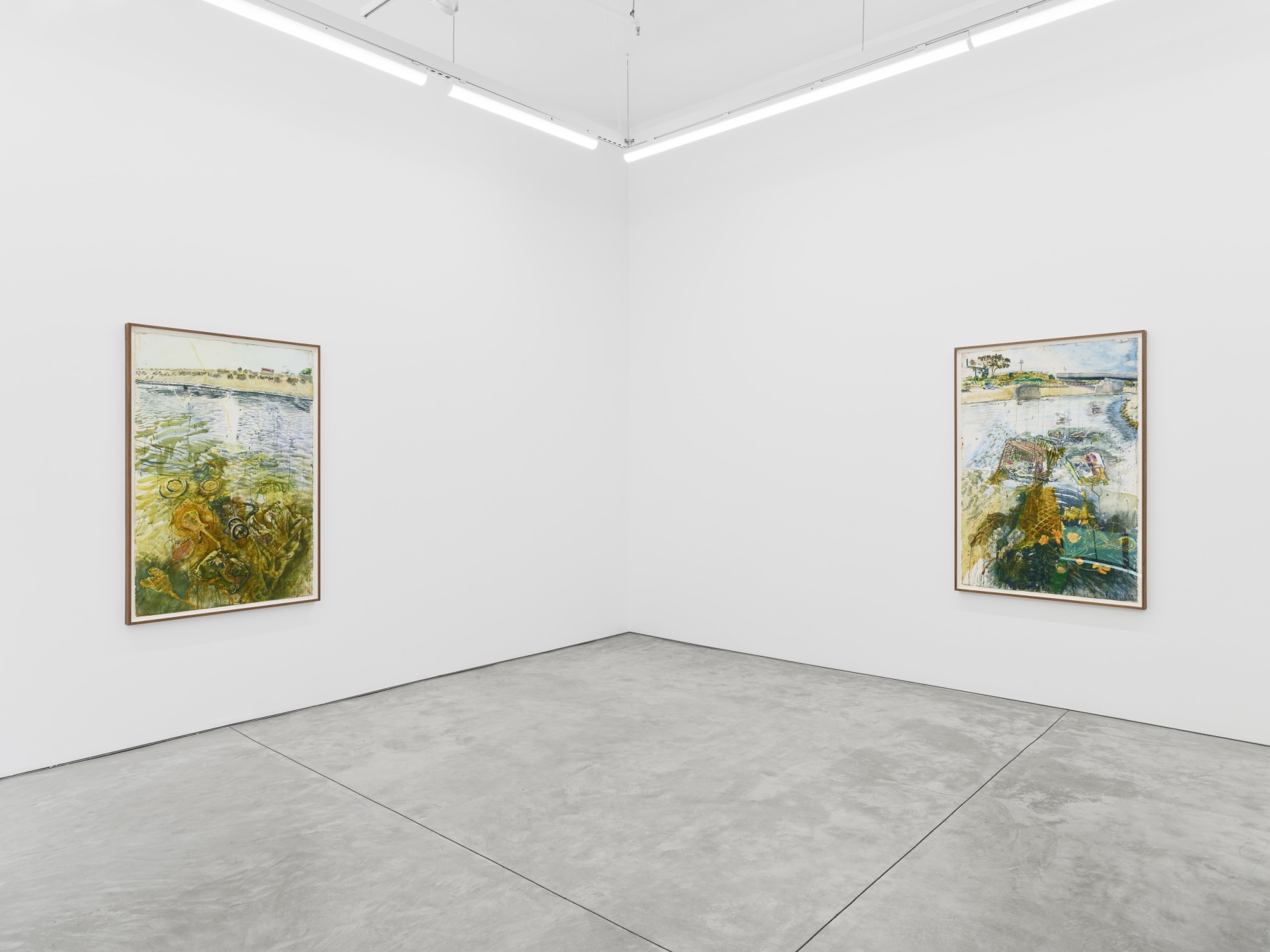 Throughout Wells's paintings, sky, shrubbery, and embankment flow down into patches of wetland. Bottles, plastic cups, and junk food packaging emerge from the grass and mud, while images of kelp-covered shopping carts conjure nature's ability to overpower man-made designs. Fluid brushstrokes and errant drips further integrate objects and landscape: It's murky where the human ends and the environment begins.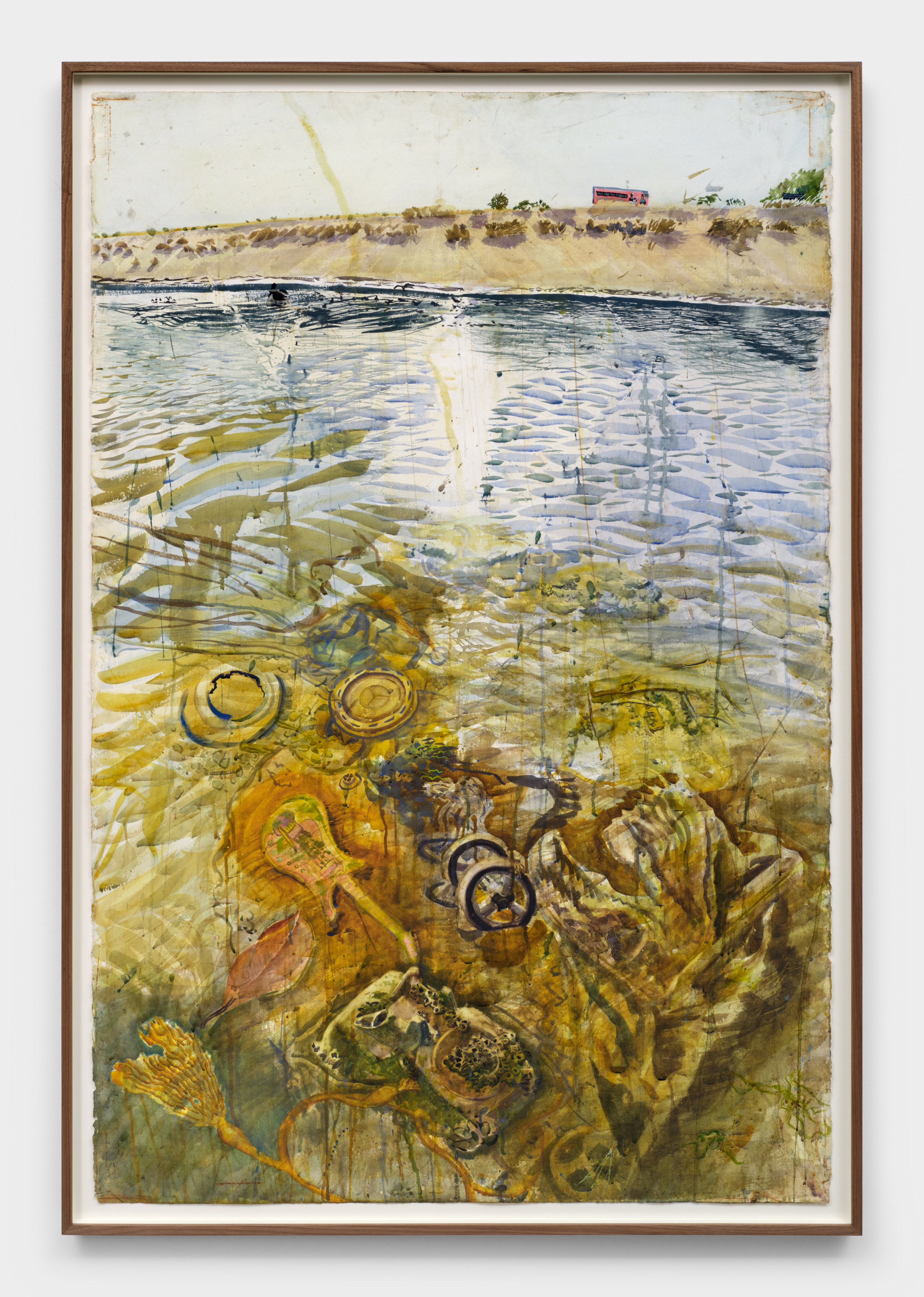 For A New Flood, Wells constructed his own floating studio and transported it to Ballona Creek in Playa Vista, where he planned to work for the month leading up to his show. He selected the site due to its hazy position at the confluence of various Los Angeles jurisdictions. After local news media picked up Wells's story, the city required the artist to apply for a permit. He submitted an application (which was ultimately denied), and the city replied with an email. The subject line, "A New flood—access Permit has been CREATED," gives the exhibition its name. "A New Flood" suggests biblical proportion and ecological specificity; the marsh in Wells's paintings must be dredged periodically so the channel has the proper flood control capacity.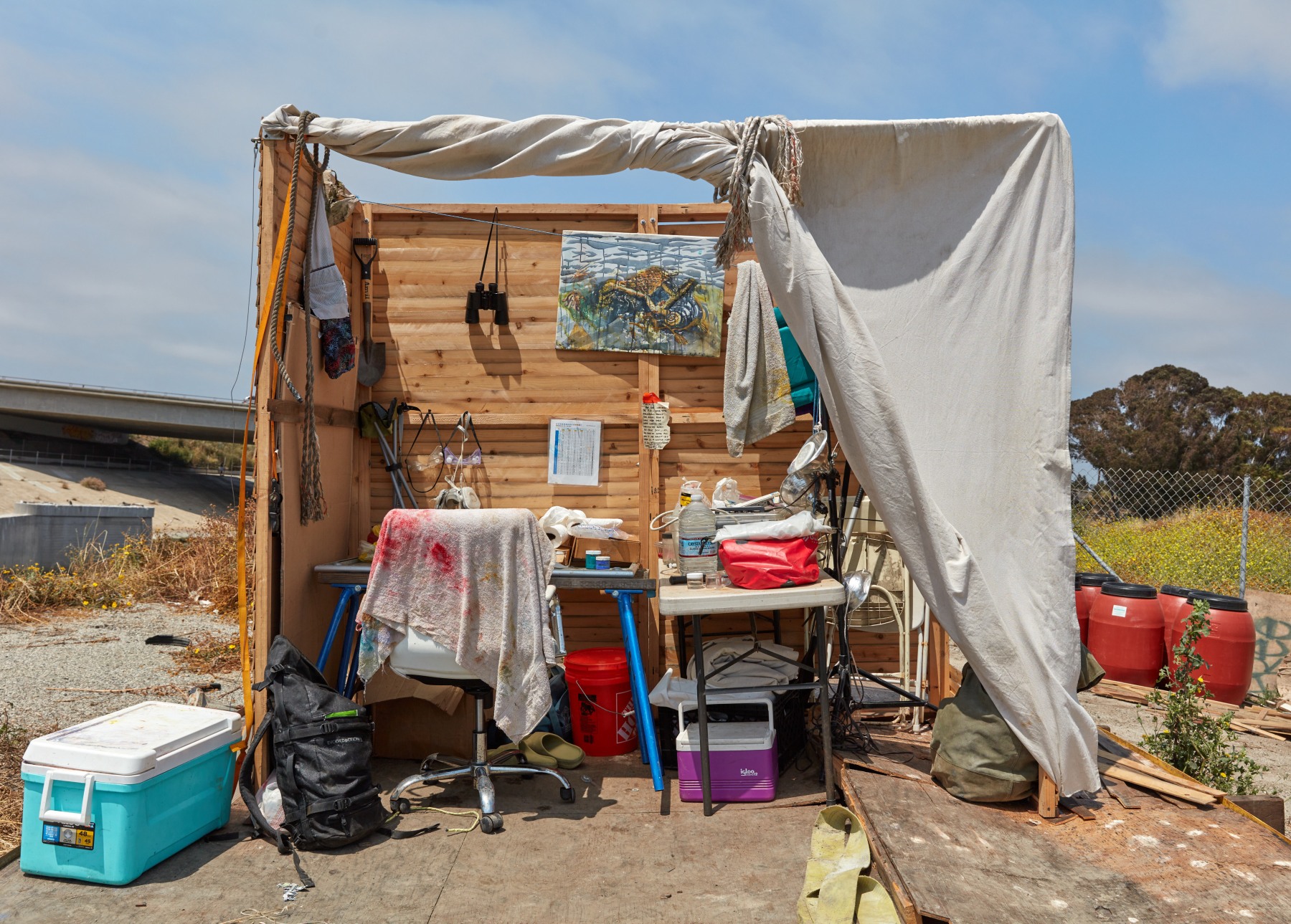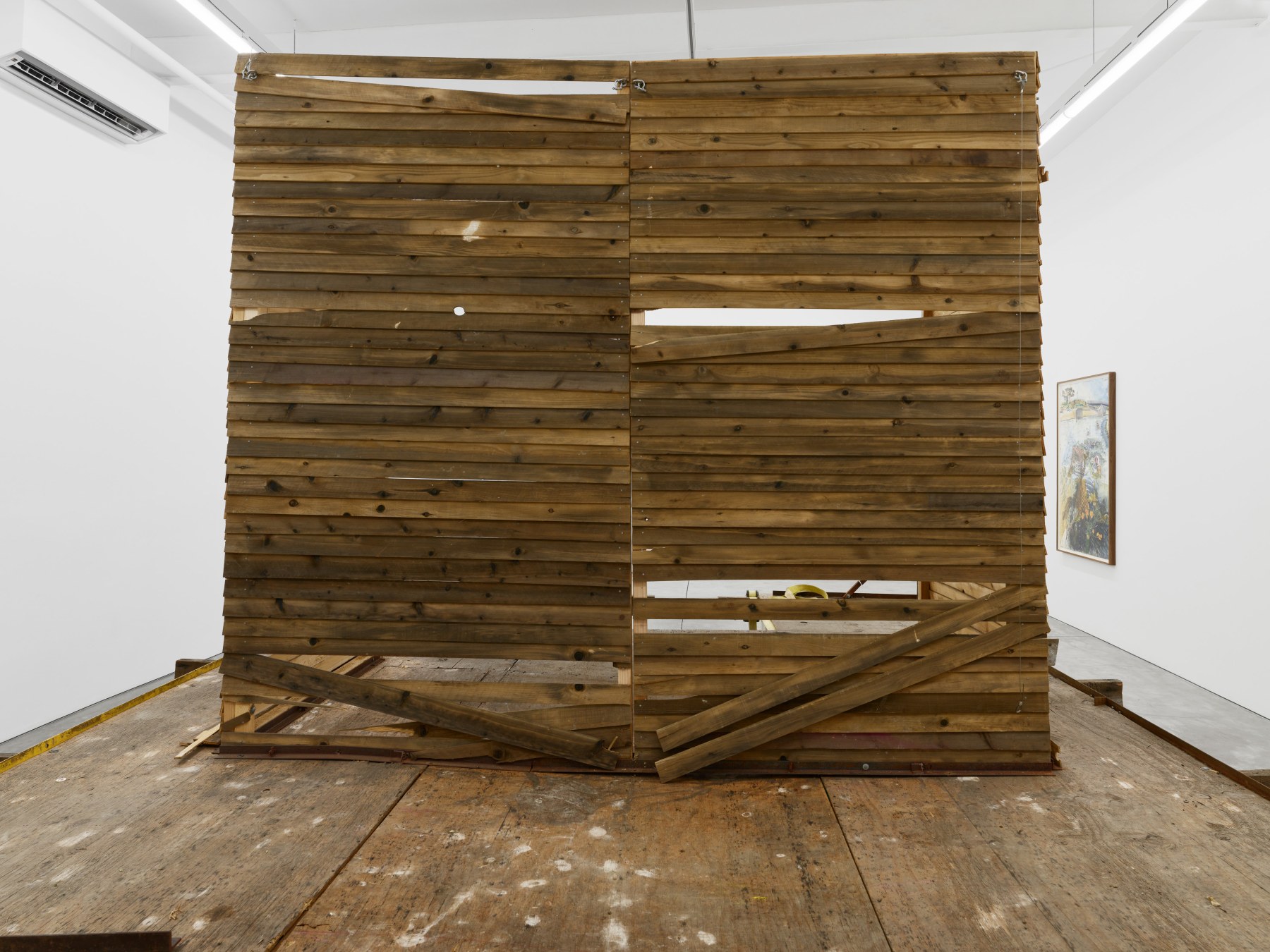 Out on the water, Wells experimented with his materials. He worked at a new, larger scale and mixed powder pigment with creek water to make his own paint. Mud, algae, and markers of the tide flecked his surfaces. The barge's wood slats accumulated bird droppings. The barrels beneath became repositories for seaweed and marine life. As Wells exhibits the barge alongside his delicate paintings, he celebrates the muck and beauty of the artistic process.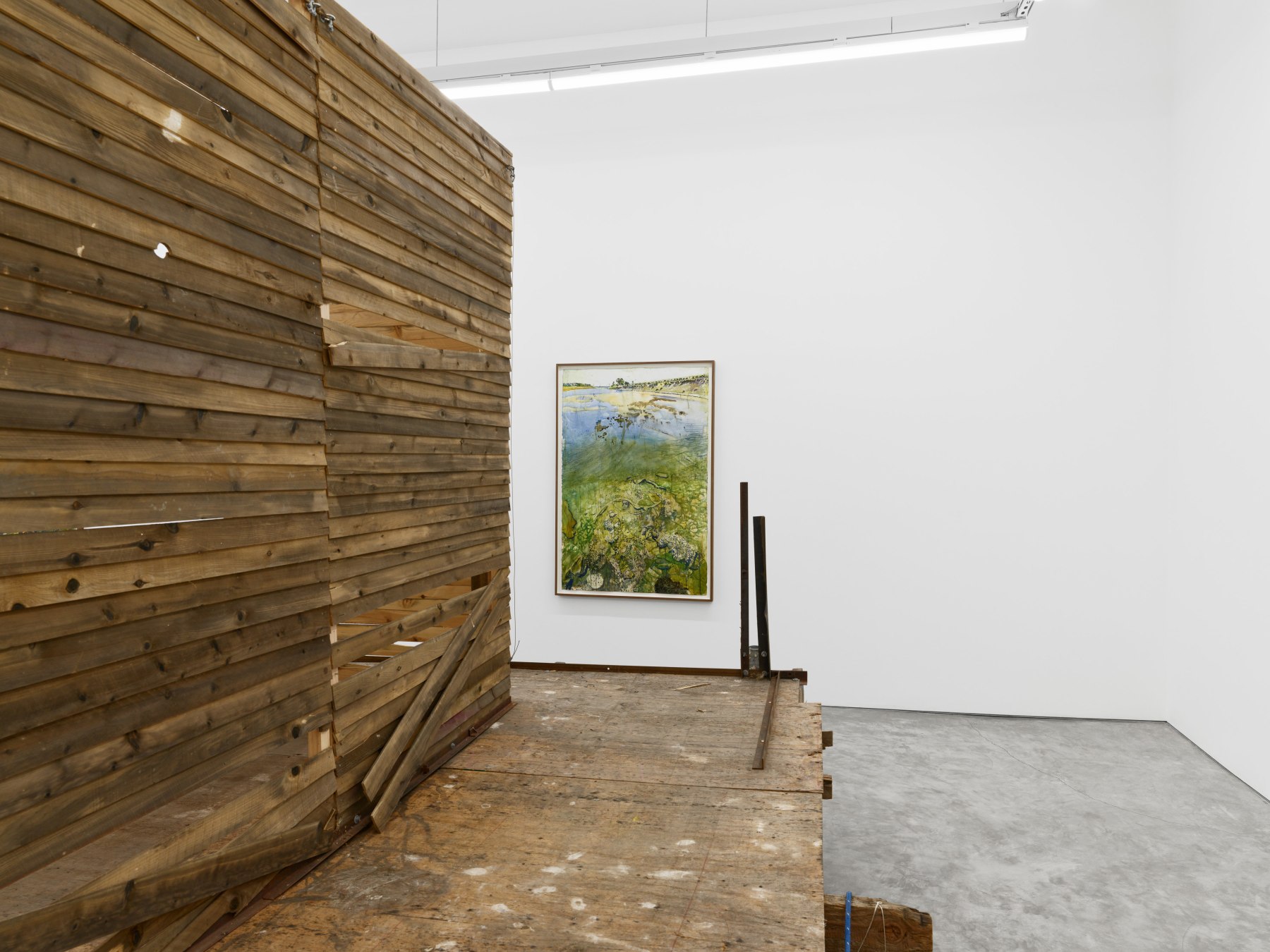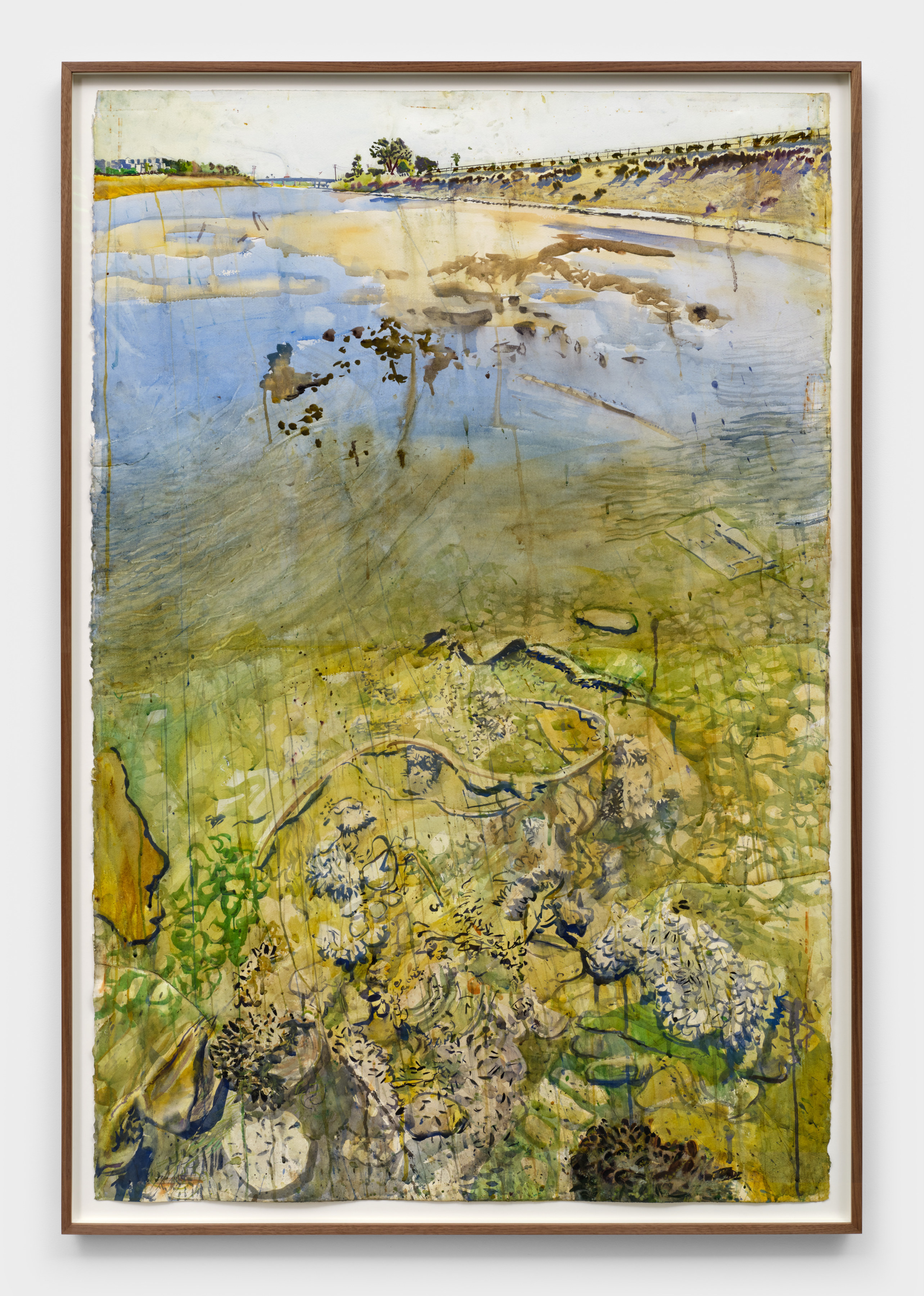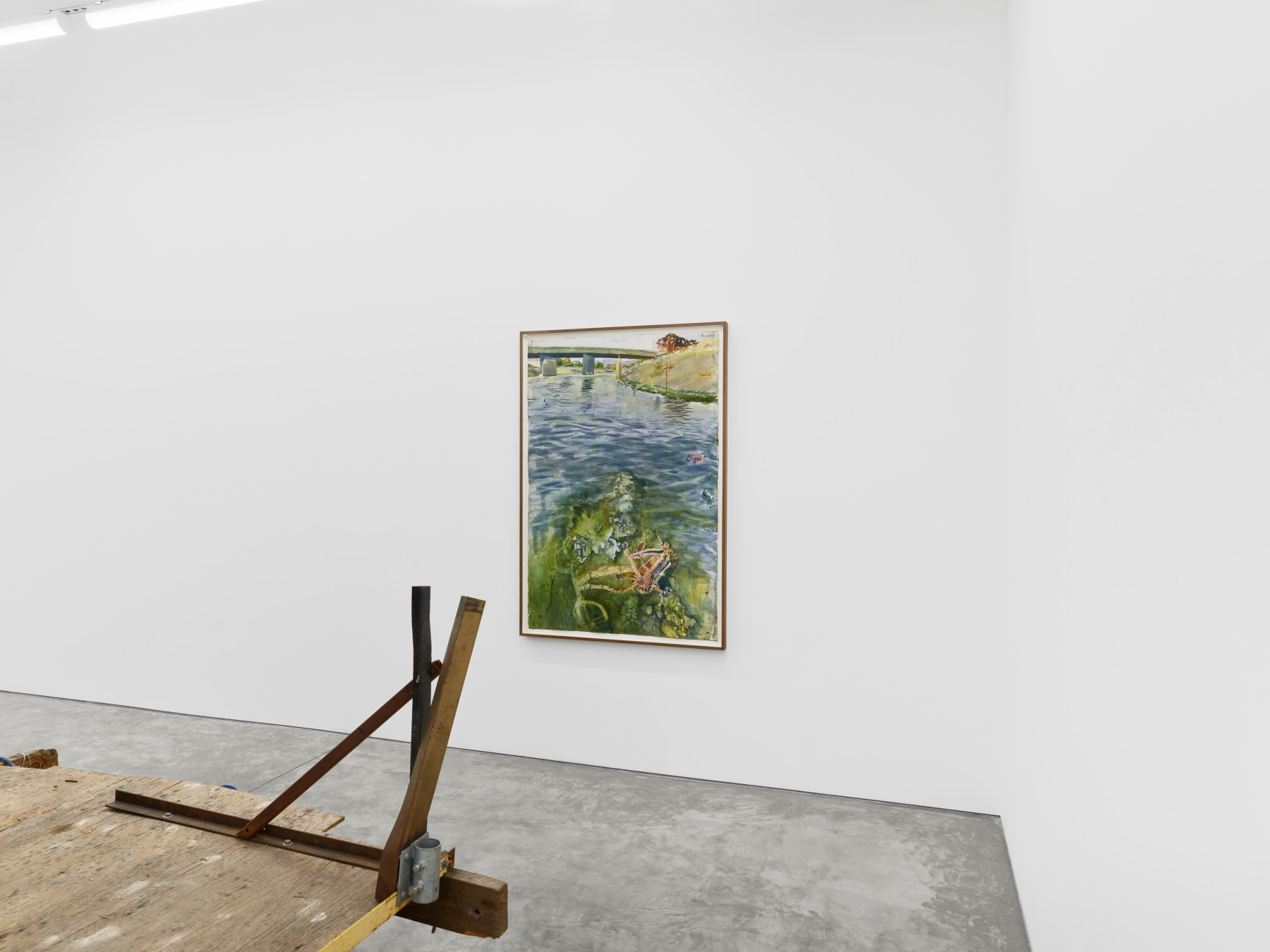 Wells's diaristic engagements with debris recall Yuji Agematsu's careful arrangements of Brooklyn litter and Mierle Laderman Ukeles's residency at the New York Department of Sanitation. Wells's barge also functions as a "bird blind"—an unobtrusive site for watching (and painting) seagulls, pelicans, egrets, herons, and anhingas—which evokes Mark Dion's projects with bird sanctuaries. Yet Wells chooses a very different medium and site. The artist fully immerses himself in L.A.'s overlooked crevices and illuminates them with hopeful southern California light.
Tides are ultimately the main subject of Wells's paintings, a natural cycle that dictates the ebb and flow of litter and marine life between ocean and creek. While the tides respond to the moon, the plein air painter responds to the sun. Evidence of the celestial bodies commingles on Wells's paper substrate, suggesting the rhythms that will repeat long after life, art, and debris wash away.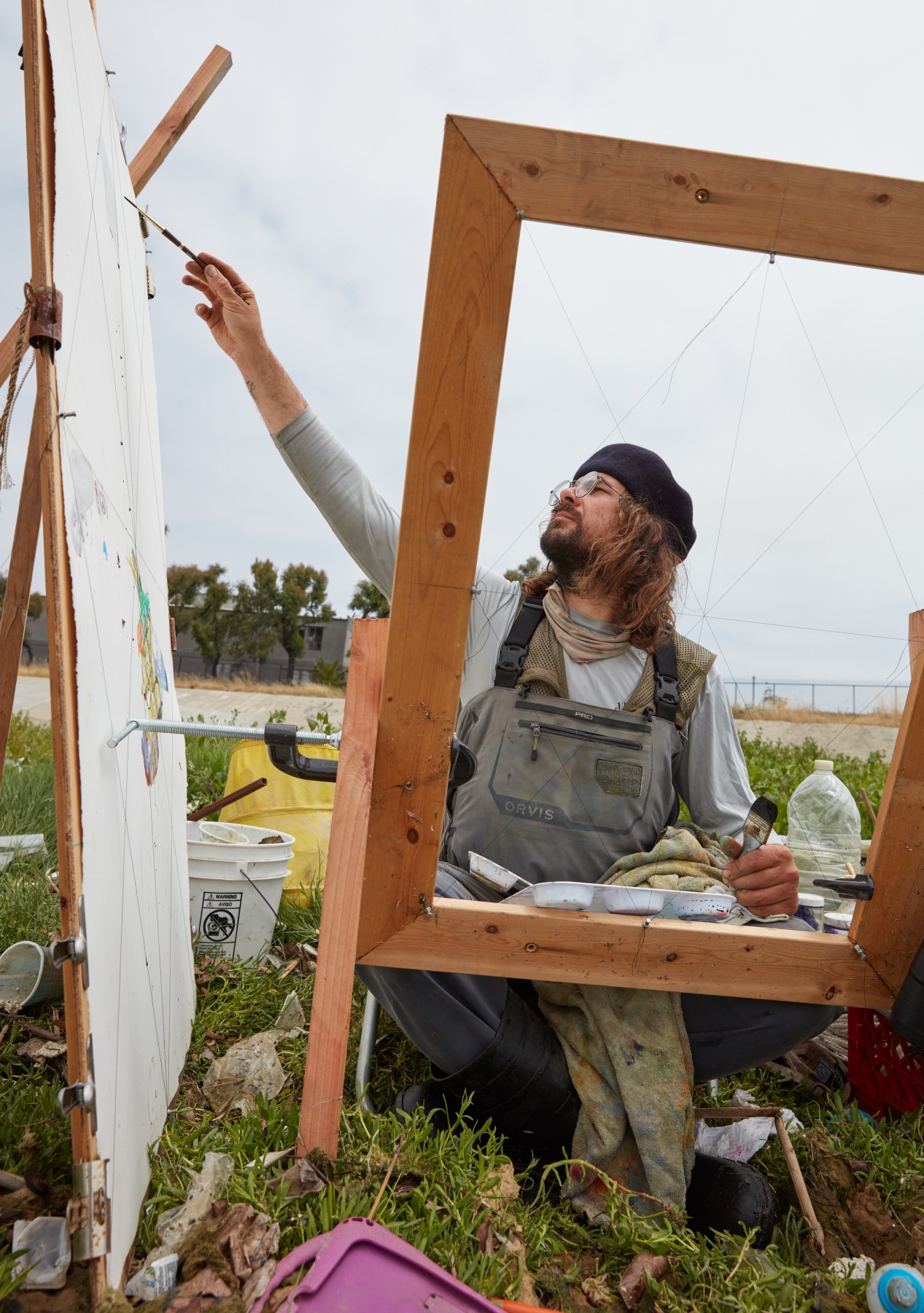 Sterling Wells (b. New York, NY) has given solo presentations at Night Gallery, Los Angeles, CA; LAMOA at Commonwealth & Council, Los Angeles, CA; Vernon Gardens, Vernon, CA; Metropolitan Structures, Baltimore, MD; and Lana's, New York, NY, among others. In 2018, he presented a collaborative exhibition at AWHRHWAR, Los Angeles, CA. In addition to Night Gallery, his work has been presented in group exhibitions at MOCA Tucson, Tucson, AZ; the Perth Institute of Contemporary Art, Perth, Western Australia; EPOCH Gallery, Los Angeles, CA; Tyler Park Presents, Los Angeles, CA; Harkawik, Los Angeles, CA; and American Medium, New York, NY, among others. Wells attended the Skowhegan School of Painting and Sculpture in 2018 and was a recipient of a 2019 Rema Hort Mann Foundation Emerging Artist Grant. His work is included in the collections of University Hospital, San Antonio, TX; and New York Presbyterian Hospital, New York, NY. Wells has been featured in Southwest Contemporary, Hyperallergic, Artillery, i-D, and BLOUIN ArtInfo among others. He lives and works in Los Angeles, CA.
Artwork images courtesy of the artist and Night Gallery, Los Angeles. Photos: Nik Massey. Installation images: Marten Elder. On site documentation images by Nik Massey.